Bonifol Design Works › Home
Welcome to Bonifol Design Works.
We are here to to help you with your logo and website issues, photography issues or other design projects.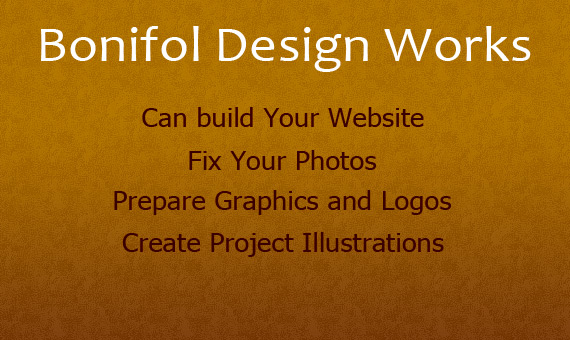 Current Developments in Web Design
Many websites today can benefit from a redesign to convert your current pages from a static pixel-based design to a fully fluid web design.
The reason is that more and more people are searching the web on tablets or mobile devices. Each device has a different screen size and a website developed for a desktop usage may now be very difficult to view and read on a mobile or smart phone device. You are losing large sections of audience when your site is compressed to fit on a smaller device, causing the user to have to squint or pinch and pull text larger, etc.
Solution: Make your site more user-friendly through a re-coding of your website to adjust for a rapidly increasing variety of electronic devices being used for the web today. I can help you with this.
Hello and Good Day!!!!
My small design firm can offer you skilled services for your projects.
Website Development and Design
HTML5/Javascript/CSS3 websites or CMS (content management system) websites
Website Redesign
Modern grid-based, responsive, fluid web designs optimized for commonly-used devices
Website Maintenance and Update Services
Development of Graphics, Designs, Illustration and Website assets
Photographic Manipulation and Editing
Illustration for web or print
Design of Marketing and Business Materials
Motion graphics, video and Flash presentations
Friendly Consultation and advice on your project needs
Please Call or use the Contact Page if you have questions. I look forward to hearing from you.
Bonnie
Bonifol Design Works
On Your Mobile or Smart Phone?:
CLICK TO CALL: 415-474-3391